Transport Options
A personalised door-to-door limousine return transport to Regency Specialist Hospital and Mahkota Medical Centre can be arranged from Singapore at only SGD120 and SGD250 respectively.
Regency Specialist Hospital offers a free shuttle service every Wednesday, by appointment, to and from Jurong East, Bishan and Woodlands MRT stations in Singapore. Mahkota Medical Centre provides free van transport from Malacca Jetty and Malacca Airport to the hospital. Van transport to Mahkota can also be arranged from Senai International Airport and Kuala Lumpur International Airport at RM400 and RM300 respectively.
For bigger groups, we can also arrange a private coach return transport to Regency Specialist Hospital or Mahkota Medical Centre. The cost will vary according to travelling group size.
Please call our patient representatives at +65 6334 7283 (OK MEDI SAVE) to book an appointment.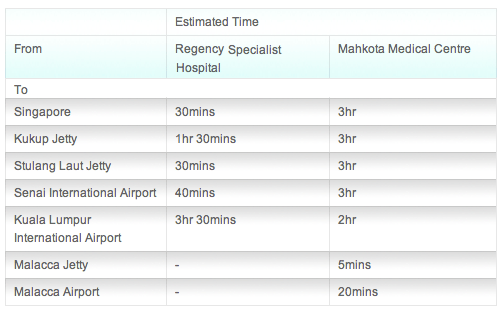 *Rates stated herein may change without prior notice.